Waynesville/Saint Robert Animal Shelter


About Us
The Waynesville/Saint Robert Animal Shelter is another instance of two cities coming together to offer the best service possible to our citizens. We are a no-kill facility located on the boundary between both cities. A new kind of shelter, we consider ourselves to have a fresh approach to animal welfare. Focusing on socialization and rehabilitation, we believe, is the key to successful adoptions and at a 98% adoption rate, our numbers are proving it.
The Difference Between Shelters
Waynesville/Saint Robert Animal Shelter - Currently the Shelter only has facilities to house canines at this time. We can hold any size or breed of dog. Our current capacity ranges from 5 to over 60 dogs at a time, filling both the front and back buildings of the Shelter.
We welcome visitors at both facilities. Nothing is better than a little puppy or kitten love, so come and get yours today!

Shelter Services
Adoptions
If you are interested in adopting from the Shelter, check out the important information below. We feel strongly about working with you to find the best match possible, so if you have any questions or concerns, please reach out to us!
| | |
| --- | --- |
| | Trial Adoptions - The most important thing Shelter staff are concerned with is finding the perfect fit between pet and family. Because of this, the Shelter's Trial Adoption Program allows families to take adoptive pets home to see how well they interact with other pets, children and the home, as a whole. Most Trial Adoptions last for ten (10) days, however; if you feel like you've made a match, you can come back to the Shelter anytime during the ten day period and go ahead and adopt! |
Also, if the trial period doesn't go as planned, we encourage Trial Adopters to return the animal to the shelter instead of trying to force a bond. Sometimes animals don't transition well, at no fault of the animal or Adopter and we want to make sure we've made a life long connection!
Adoptions - If your trial period ends in success, then the adoption process starts! Simply bring the pet back into the Shelter in order to fill out the proper paperwork. There are some things to take into consideration such as whether the animal has been spayed or neutered. If the animal has not been spayed or neutered before they go on trial, then an appointment to do so must be made before the completion of the adoption. As part of the adoption fee, all animals will be fully vetted concerning any shots or vaccines that may be needed along with spaying and neutering.
Help to Low Income Families
The Shelter has, from time to time, helped low income families obtain needed vaccinations, flea and tick treatment and other neccesities for their pets. For more information, contact the Shelter at (573) 774-6509.
Surrendering a Dog
Before you reach out, keep in mind that we are a limited admission, no-kill shelter. This means we have limited space and resources to accept dogs that are not picked up by Animal Control. Owner surrendered dogs are accepted on a first come, first serve basis and only if space is available. Vet records must accompany each dog showing that the dog is up to date on vaccines and has been tested for heartworms within 30 days and is negative.

Animal Shelter Fees & Costs
The Shelter provides several services to include stray animal holds and adoptive services for both canines and the felines that are housed on Fort Leonard Wood. Listed below are costs associated with those services.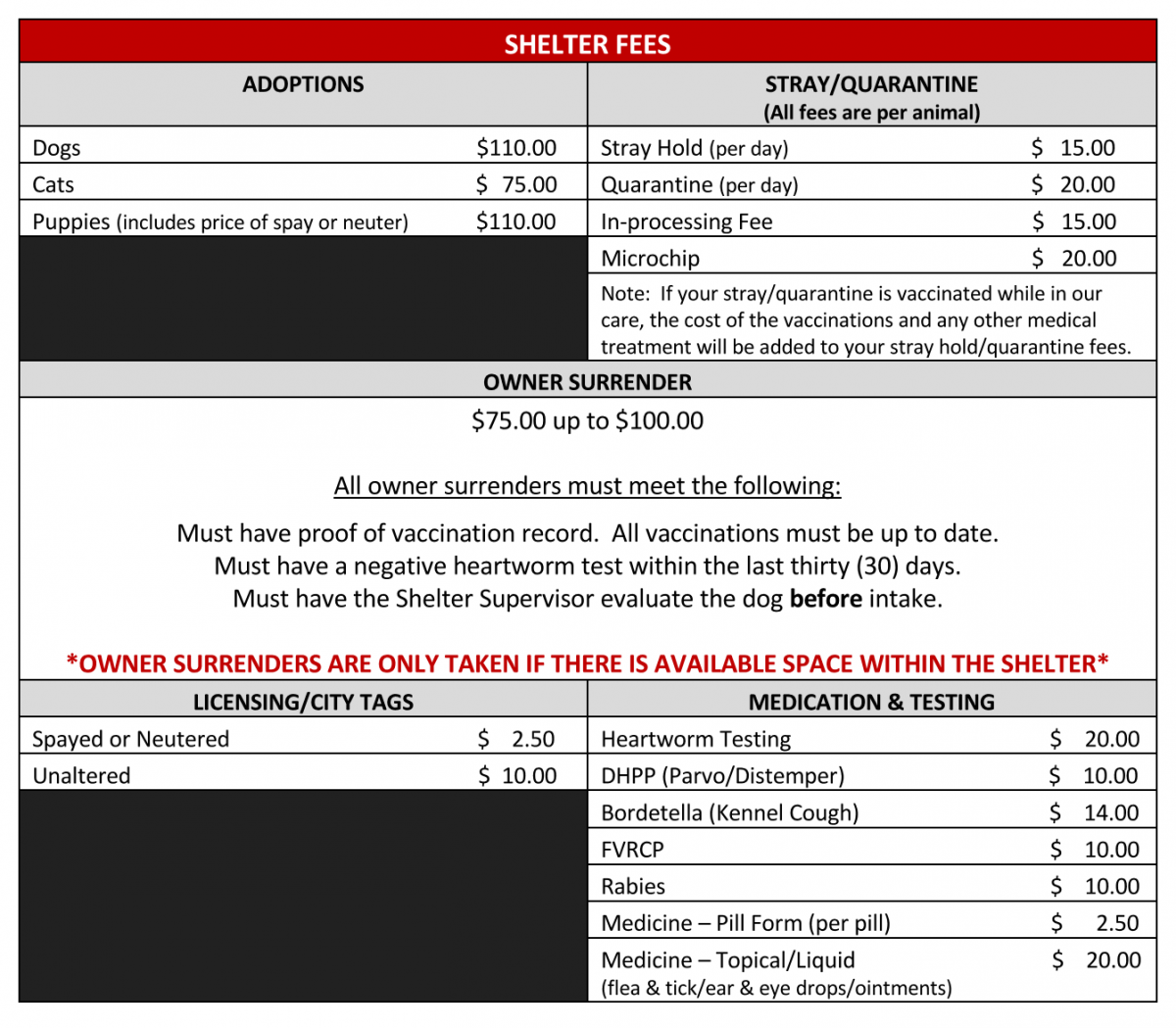 Donate Today!
Our Shelter has the priviledge of being a part of the best community in our area. The Shelter could not provide the quality of services and care our animals desperately need without the help of our friends and neighbors. From fundraising and special events to emergency care, our Community is hands down the most kind and generous when it comes to the Shelter's needs. We appreciate each and every one of you who donates not only money and supplies, but most importantly, their time. The love our animals feel from each of you brings so much joy and happiness to our Shelter.

If you would like to donate to the Waynesville/Saint Robert Animal Shelter, you will need to request an animal identifier number by calling the Animal Shelter at 573-774-6509 or by messaging their Facebook page. Once you have the identifier number click the link below to donate.

Be a Volunteer
| | |
| --- | --- |
| | The Shelter wouldn't be the same without the wonderful people who volunteer at our Shelter. From office help to dog walkers, our volunteers are what keep the Shelter going. If you are interested in volunteering at the Shelter simply fill out the Volunteer Application and email it to animalshelter@waynesvillemo.org. |

Frequently Asked Questions
How can I apply to adopt an animal?
You can either come see us at the Shelter and fill out an adoption application or you can download the application online at the City's website and either email it or drop it off to shelter staff.
If I put in an application, does that mean I get the animal?
No. Applications are evaluated on a first come first serve basis.   Also, the information detailed on the application plays an extremely important role in finding the best home for our animals.  Sometimes, even with our best efforts, it's just not a good fit between the adopter and the animal.  
Why does the Shelter only take in dogs?
The Waynesville/Saint Robert Animal Shelter is only equipped to handle dogs.  We do not have the facilities to house cats, properly.
Can I surrender cats to the Fort Leonard Wood Shelter?
Only if the cat was found on Fort Leonard Wood.
Does the Shelter take Owner Surrender animals?
The Shelter will take Owner Surrendered animals only there is space available and only under certain conditions:
The animal must be up to date on shots.  This includes dhpp, bbb and rabies.
The animal must test negative for Heartworms within 30 days of the surrender.
If the animal is not up to date on shots or does not have the required Heartworm negative test, an additional charge will be added to the surrender fee in order to test the animal for Heartworms.  If the animal is found to be heartworm positive,  the Shelter will not take the animal and the Owner will be responsible for payment of the test. 
Does the Shelter offer low cost spay and neuter clinics?
Unfortunately we do not, at this time.
Does the Shelter offer vaccinations?
Yes.  Currently the Shelter offers both dhpp and bbb.  We are also equipped to administer tests for Heartworm and provide flea and tick treatment.  We cannot however, give rabies vaccinations.
Does the Shelter provide dog food to families in emergency situations?
Yes.  As long as the Shelter is well stocked with food, we will absolutley help those in emergency situations.  Keep in mind that we cannot supply dog food on a continual basis.
Are you accepting Volunteer Applications?
Yes!  We can always use help at our shelters!
What are the requirements for a Volunteer?
Volunteers must be at least 16 years of age or be accompanied by a parent.
Can I reserve a time for a group of Volunteers to come help at the Shelter?
Of course!  Please keep groups to 10 or less.  Groups can schedule a time Monday thru Saturday from 8am to 5pm, when the Shelter is open.
Group Volunteers may also help on Sundays mornings from 8am to 10am or in the afternoon from 3pm to 5pm.
How do I report Animal Abuse?
If you suspect animal cruelty or neglect of any kind call the Waynesville Police Department at 573.774.2414.  Please do not contact the shelter directly.  The Police Department will dispatch the proper authorities to investigate your call.  
Animal Control Officers can only investigate cases that are within the boundaries of Waynesville and Saint Robert.  For all other cases, you can either contact the Pulaski County Sheriff's department, or the Humane Society of Missouri's Animal Cruelty Task Force.  You can find contact information for both agencies, below.
Locations
Waynesville/Saint Robert Animal Shelter
1502 Ousley Road
Waynesville, Missouri 65583
Pulaski County Sheriff's Department
403 School Street
Waynesville, Missouri 65583
573-774-6196