Route 66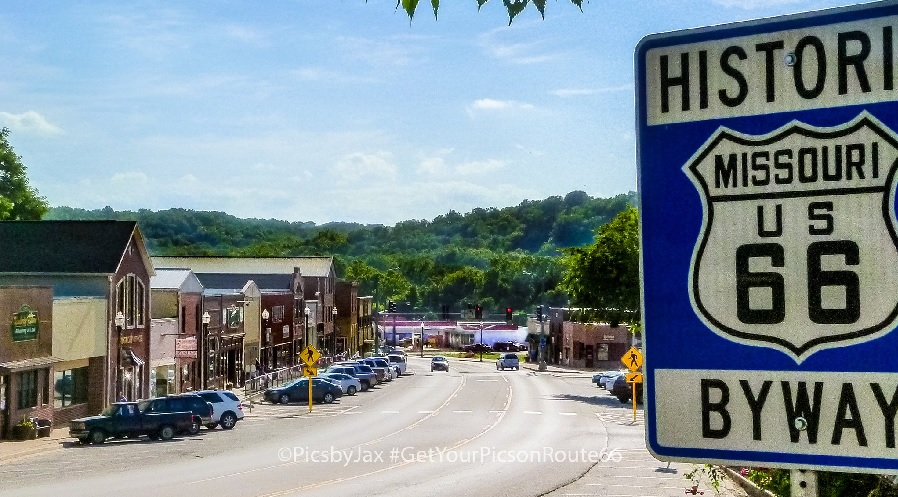 There's more to Route 66 than the Downtown District. Wonderful businesses and places to visit can be found all along our Mother Road corridor. Be sure to check them out too!
History
Five years after U.S. Highway 66 was decommissioned, on July 10, 1990, Missouri became the first state to award the highway historic status. A legislative bill, sponsored by Missouri State Representatives Jim Mitchell of Richland and J. Dan Woodall of Springfiled, won unanimous support in the General Assembly.

THE ROCK HOUSES OF ROUTE 66
Made from sandstone taken from the magificent bluffs of the Gasconade, Roubidoux and Piney River Bluffs, the Rock Houses of the Ozarks have been a beautiful attraction for close to a century. Waynesville's Rock structures, made from the "Roubidoux Formation" dot the landscape of our small town even today.
Built in 1920 by Earl Bohannon, the garage was built with a spacious drive-in basement. In March of 1948, George Long leased the building for his wife and Mrs. Elmer Long in order to open Long's Café. A 24-hour eatery, the café operated in conjunction with Mr. Melvin Power's garage located in the west portion of the building.
Today, the building is owned and operated by Ed Wilson Auto Works and has been for many years. A quality auto repair shop, they are dedicated to providing superior value in all parts of installation and service. Backed by their flexible warranty, they pride themselves on developing long-term relationships with their customers. To learn more about the services Ed Wilson Auto Works provides, go to www.edwilsonautooworks.com.
For more information on the Rock Structures located not only along Route 66, but throughout Waynesville, visit the Old Stagecoach Stop's website at www.oldstagecoachstop.org and visit their Old Settler's Gazette Archive. The information used here came from an article in the 2020 edition of the Old Settler's Gazette by author Terry Primas. If you are interested in learning more, check out the article, here.

BUSINESSES
Known as America's Mother Road, Historic Route 66 has undergone a business resurgence as travelers search for the open roads and unique establishments of a bygone era. Waynesville's stretch of 66 is filled with those "Mom and Pop" stores and cafés people long for and they are filled with great merchandise, amazing food and some of the friendliest and down-home people you'll meet on the By-way.














Locations
Every Blooming Thing
206 Historic Route 66 East
Waynesville, Missouri 65583
573.774.6775
Westside Salon & Boutique
400 Historic Route 66 West
Waynesville, Missouri 65583
573.774.3100
Mardiyama Hibachi Express
313 Historic Route 66 West
Waynesville, Missouri 65583
573.745.0666
Parabellum Martial Arts & Strength
508 Historic Route 66 West
Waynesville, Missouri 65583
573.433.2323
Swenson's Auto Service
1010 Historic Route 66 West
Waynesville, Missouri 65583
573.774.2390
Anytime Fitness
1104 Historic Route 66 West
Waynesville, Missouri 65583
573.774.4195
Boggs Automotive
1107 Historic Route 66 West
Waynesville, Missouri 65583
573.774.2272
Express Cleaners/Fashion Land
1113 Historic Route 66 West
Waynesville, Missouri 65583
573.774.6964
Pratt's Lawn & Garden
1805 Historic Route 66 West
Waynesville, Missouri 65583
573.774.2867
Pulaski County Farmer's Market
163 Revere Lane
Waynesville, Missouri 65583
573.842.9079