50th Anniversary of the Roubidoux Park
JUNE 4TH, 2022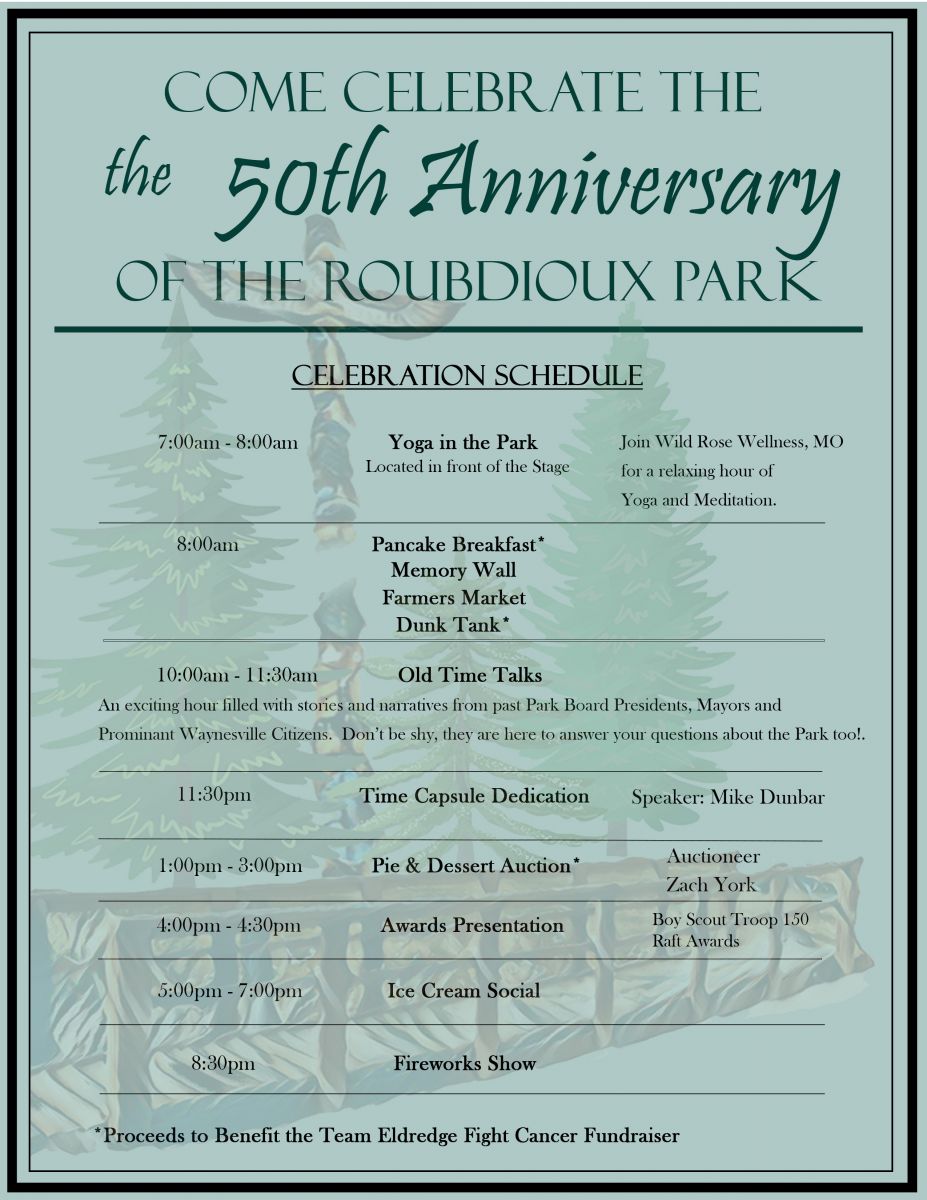 In June of 1972, Mayor CW Parker and the City Council officially named the park in downtown Waynesville the Roubidoux Park by Ordinance. Since that time, the park has grown, not only in size, but in beauty and character.
So come join us for a fun-filled day of memories and thoughts of the future as we come together to celebrate the Roubidoux Park's first 50 years.
TIME CAPSULE DEDICATION
Memories of the Roubidoux Park are vast and reach around the world due to our military neighbors. Because of this, the City is dedicating a Time Capsule that will be located in the park for future generations to enjoy. We invite the community to donate items to the time capsule in an effort to make its contents as diversified as we can.
Please keep in mind that there is limited space in the capsule. Items should be small in nature and represent either Roubidoux Park or the City of Waynesville, itself. We will take donations until the capsule is full. Any donations received after will be returned to the owner.
Type of Items to Donate: Letters, pictures, small trinkets, pamphlets, etc. A book will be made available for those attending the event to sign and leave small messages to those who will open the capsule in the future. Donations can be dropped off at Waynesville City Hall or mailed to 100 Tremont Center, Waynesville, MO. 65583.
MEMORY LANE
Do you have a fond memory of the Roubidoux Park? a story? a picture? Then bring them down to the Park the day of the celebration and add them to the Memory Lane exhibit! You are welcome to bring your memories to City Hall if you would like for us to include them and you are unable to attend the day of the celebration. We will make sure they make it to the Lane. We can't wait to see how long Memory Lane can get!

ROUBIDOUX RAFT RACE
CANCELLED!!!
It's back folks! Whether you are a group of friends, a family or a business engaging in some healthy competition, with the competition, be sure to get your registration in today! All entries must be recieved no later than May 25th.
Here are the categories for awards:
Fastest Time
People's Choice (Design)
The Lawrence Beamer Award (Design)
RAFT RACE THEME - GET YOUR KICKS ON ROUTE 66!
If you can find it on Route 66 then it can be the theme of your float! From rocking chairs to big blue whales the sky is the limit! Show us your best Route 66 raft!!! But even if you have no artistic flare, build a "Anything that Floats" raft and come join the fun anyway!!
GET THAT RAFT DECKED OUT TODAY!