Miss Croaker Pin-Up Girl Contest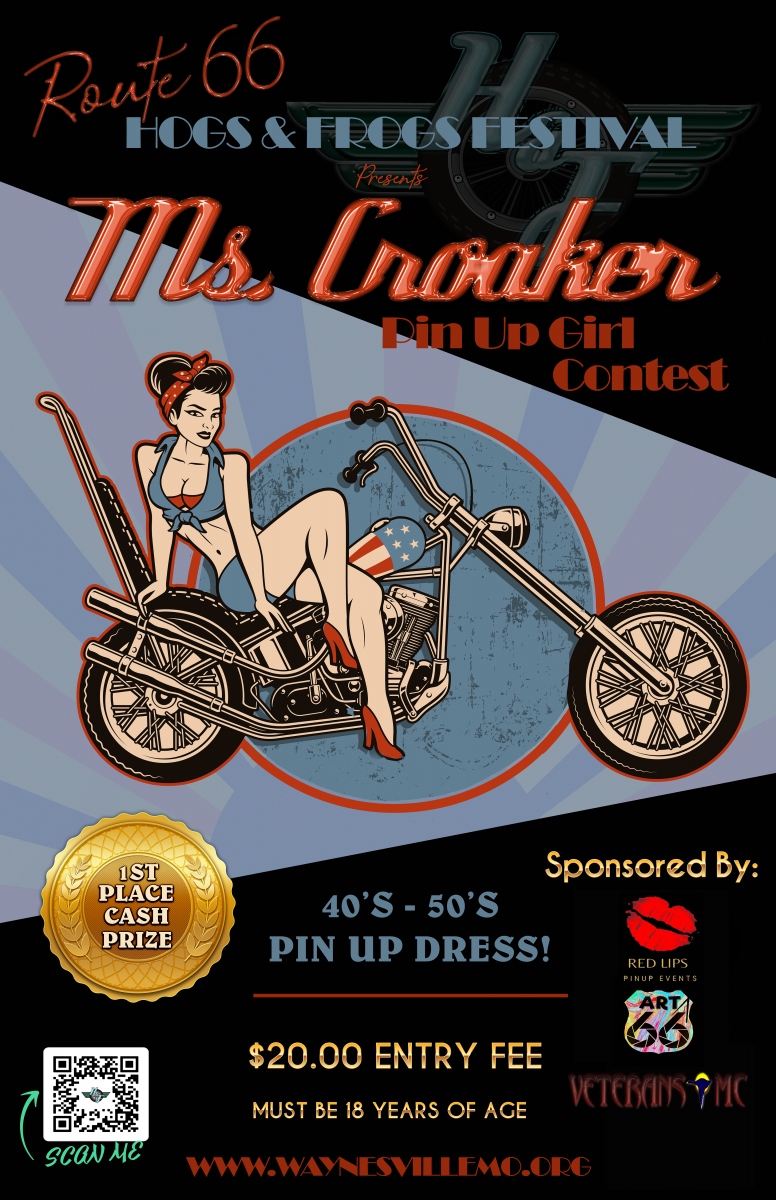 Grab your best pin-up dress and head on down to the Route 66 Hogs & Frogs Festival to show off your beautiful smile in the festival's first ever Ms. Croaker Contest! Ms. Croaker Contest is sponsored by Red Lips Pinup Events! For more information check out their Facebook page here!
1st PLACE CASH PRIZE!!
And all the bragging rights a gorgeous girl like you deserves! Be ready for all eyes to be on you for the length of the Festival as you pose for pictures, help give out awards and generally bask in the love and adoration of all things Croaker!
Event Timeline
3:30pm - Competitors report to the Roubidoux Amphitheater & Stage for pre-contest briefing.
4:30pm - Competition starts with introductions of competitors. YOU introduce you. Who are you? What gives you that extra bit of sparkle to be Ms. Croaker? Why should you win?
4:45pm - Competitors perform a short commercial promoting the Route 66 Hogs & Frogs Festival. Be sure to ham it up. An awesome sense of humor and great personality always wins the crowd!
5:45pm - Last walk. This is the last chance to strut your stuff!
6:00pm - Judges present scores to Emcee.
6:01pm - Emcee announces winners!
Dress
Rock your inner pinup girl with the best 40's-50's dress you can find! Remember, this is a family friendly event, so make sure you dress appropriately. If you aren't leaving much to the imagination, you may not be allowed to compete!
Don't end with the duds! Think about hairstyles and makeup that will enhance your look, as well!
REGISTRATION
Competitors can register at https://rebeccahultz.glossgenius.com/. Once you make it to the website, click on Services and then on the Ms. Croaker Pinup Contest tab. Good Luck! We can't wait to see you there!!