Hog & Frog Cooking Contest - Show Me Series
Competitor Information - Attendee Information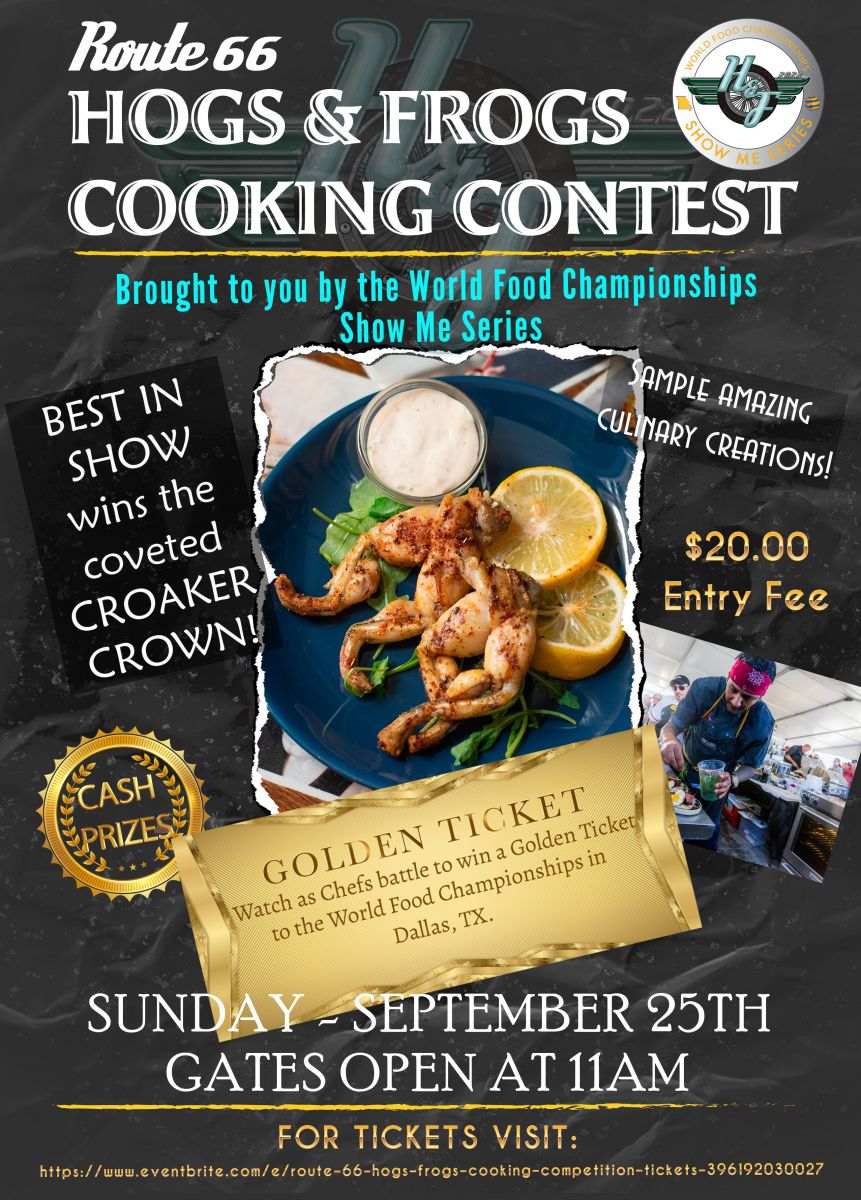 COMPETITOR INFORMATION
Are you a Recipe King? Master of the Kitchen? Conjurer of culinary delights? Then we have the event for you! Whether you are a home cook or a pro, register now for the biggest Foodie Event on Route 66! Only 12 spots available!! The winning competitor receives a Golden Ticket to the World Food Championships in Dallas, TX and a chance to win $100,000!
We provide the pantry, we provide the cooking stations, we provide the plates…..You provide the SIZZLE! Register to compete with the best of best in the world of #FoodSport! Questions? We have answers and will cover them all on our competitor call after registration or email us at events@showmeseriesmo.com.

ATTENDEE INFORMATION
Home town glory, global recognition, and a shot at $100,000 is on the line as the WFC Show Me Series comes to Waynesville! Professional and home cooks alike will battle for the Golden Ticket that will send one talented chef to the World Food Championships in Dallas this November!
The WFC Show Me Series is the official qualifying event platform of the World Food Championships in Missouri. Last year, Missouri produced NINE Golden Ticket competitors. Six made it into the Top Ten in their respective categories, and two became category World Champs and competed at the Final Table, finishing fifth and second, and brought home thousands of dollars.
Can we repeat our incredible performance? We will find out soon because this year, the spotlight is on Waynesville and the First ever Route 66: Hogs & Frogs Cooking Competition!
Your ticket gets you access to the Show Me Series chef battle arena inside the Hogs & Frogs Fest. Come cheer your favorite culinary competitor as they battle for taste bud glory! Contestants will have just sixty minutes to create their best Hogs or Frogs dish.
Come for the slicing! Come for the dicing! Most of all, come and taste the dishes! Competitors will serve bites for paid attendees. Relish each bite — it may very well be a world champion dish! What's more, everyone gets to vote for their favorite bite. The winner will be named Best in Show, take home the first ever Waynesville Croaker Crown, and carry the honor for a year.
Then the judges announce the winner of the coveted Golden Ticket! The winner will to travel to compete in Dallas and represent Missouri on the world stage, face hundreds of chefs from all over the world, and chase down one hundred thousand dollars!
A limited number of tickets are available. Get yours today!
It's the hottest food fight on Route 66. Don't miss it!